Kitchen Küchentime Riva in Lliber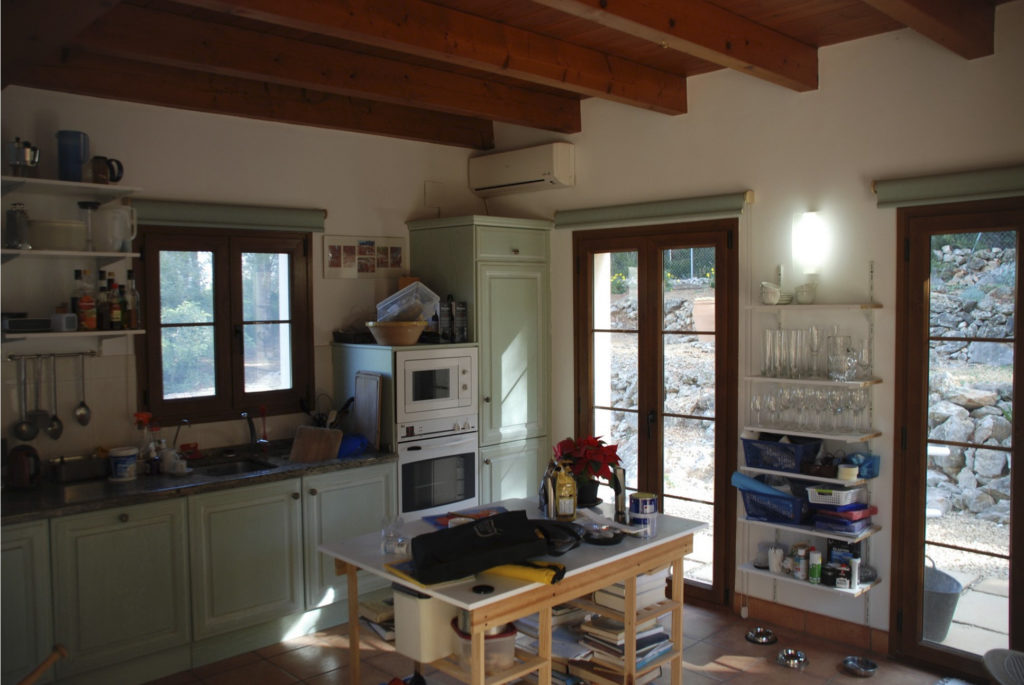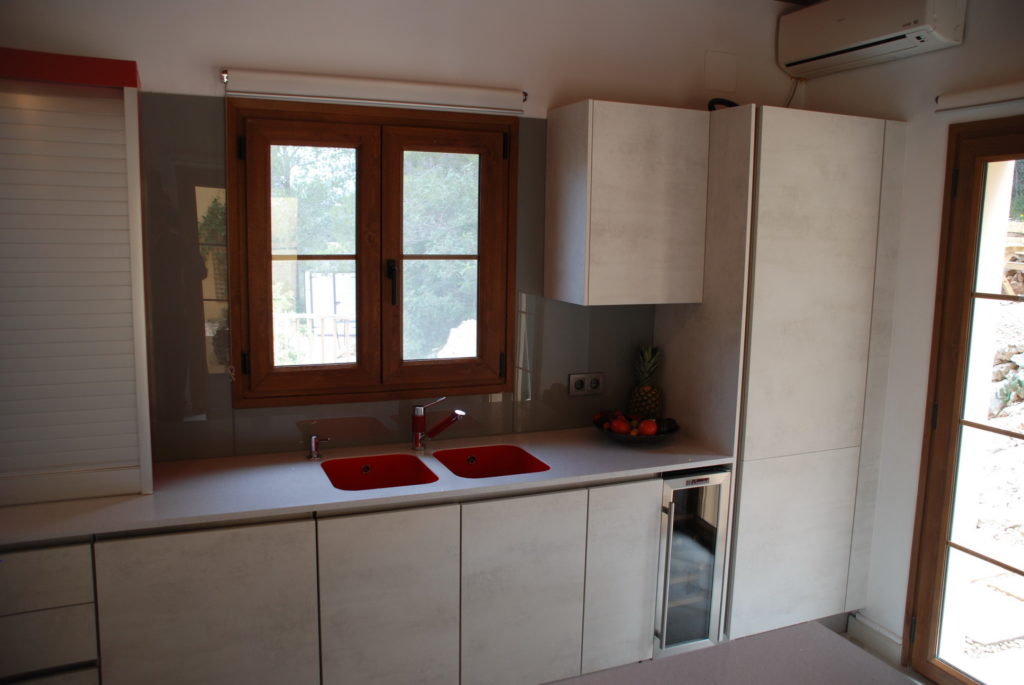 For this project the client wanted something very special that combined with the beautiful chalet in the mountains of Lliber. We were looking to change the look of the traditional kitchen and give a modern and original look. To renovate this kitchen, we have chosen a special finish offered by Küchentime Riva, the white cement reproduction with touches of red. The handle is integrated into the cabinet since this Line N model is designed to add no handle.
In the main part of the kitchen we have installed a column with an integrated refrigerator; a Candy free installation wine cellar; a removable 40 cm base unit with integrated rubbish bin; a 90 cm base unit for the sink; an integrated dishwasher, an 80 cm base unit with 2 small drawers and one pull-out; a corner unit with shelves; and a low 30 cm base unit adapted to the column. Also, on top of the dishwasher there is a furniture with blind and on top of the corner unit there is a shelf in bright red.
In another part of the kitchen we have a low base unit of 40 cm and next to it two columns of 148 cm high with a microwave and an oven Miele. In addition, there is a column more of the same size, but only 46 cm deep with three shelves inside.
In the center of the kitchen, having the maximum prominence, there is an island; on the one hand, a base unit of 90 cm with special drawers for hob with integrated extractor and a pull-out base unit of 30 cm with two trays inside; and on the other side, there is a base unit of 120 cm wide and 46 cm deep with two drawers and a pull-out. In addition, the countertop on the side of the island has been extended a little to create a snack bar for two people.
And finally, in a corner of the kitchen we have installed two 148 cm high columns of 40 cm wide and another column with red open shelves.
The worktop that our customers have chosen is a Silestone White Storm, with a sink under a red countertop by Cuccine Oggi. It also has a bright grey cladding above the countertop.
You can keep watching more projects here or you can contact us to ask for a design.