Kitchen Arredo3 Time Glossy Ecru in Calpe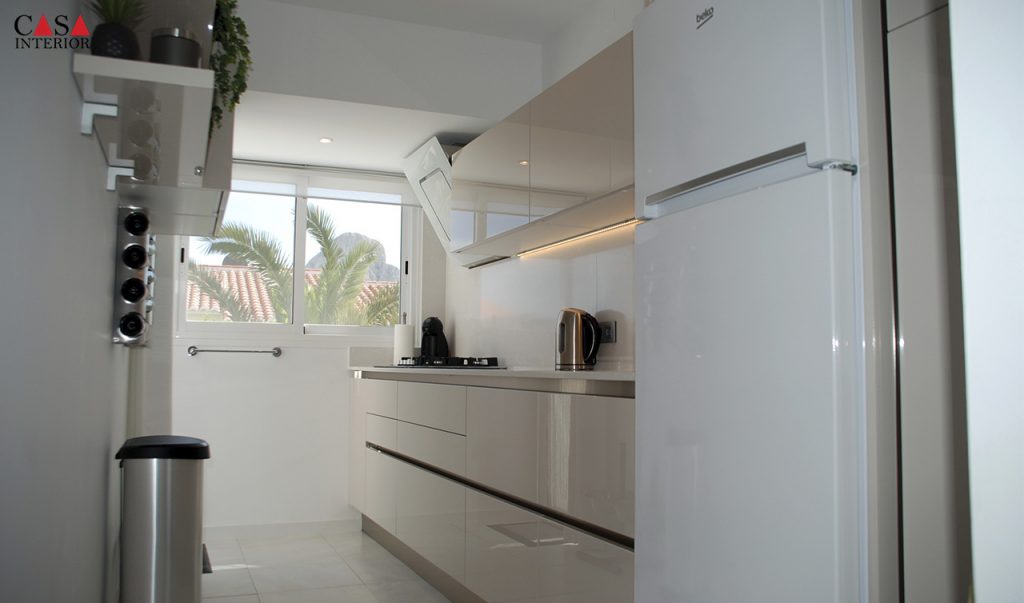 Our renovation project for this kitchen has included a complete reform carried out by the owners of the house. Our charming clients knew very well the style they wanted so the design part was quite fast. A kitchen with a modern look, handless because the kitchen is a little bit narrow and a bright color that reflects light. The best option was our Italian factory Arredo3 model Time. The door has a glossy lacquered finish color Ecru. The handle is integrated into the cabinet in a stainless steel finish. The 15 cm high plinth is made of aluminum and has the same stainless steel finish as the handle.
The composition of the kitchen is quite simple. Our clients did not want a kitchen crowded with cabinets and columns. It is difficult to find the balance between maximizing storage and filling cabinets throughout the kitchen, it is one of the most common problems when it comes to combining design and functionality. A similar distribution of the original kitchen has been maintained but modernizing it and combining the different sizes of the cabinets.
The type of cabinets they have chosen are furniture with drawers for the lower ones and folding door cabinets for the superiors. The fittings we have used have been the Antaro model for the drawers and the Blum system for the cabinets. We have closed the part of the column to the ceiling so that it does not need to be cleaned. We have also installed two custom-made shelving units in the same lacquered finish as the kitchen doors.
The countertop we have chosen matches the color of the cabinet doors, instead of looking for a contrast that stands out so that the kitchen looks like a compact set. As you can see in the photographs, there is a cladding from the worktop to the wall units made of the same material as the worktop, the Yukon model from the Silestone brand, installed by our colleagues at Marmoles Naturalia. It incorporates a Silgranit sink in jasmine color from Blanco brand installed under the counter.
This kitchen does not have too many appliances, just a white glass gas hob from Cata and a cooker hood, also in a white glass finish, from the brand Thermex, model Cambridge. Customers have kept their Beko fridge in white as well since it worked perfectly and there was no need to replace it.
You can keep watching more projects here or you can contact us to ask for a design.