Kitchen Arredo3 Wega in L'Albir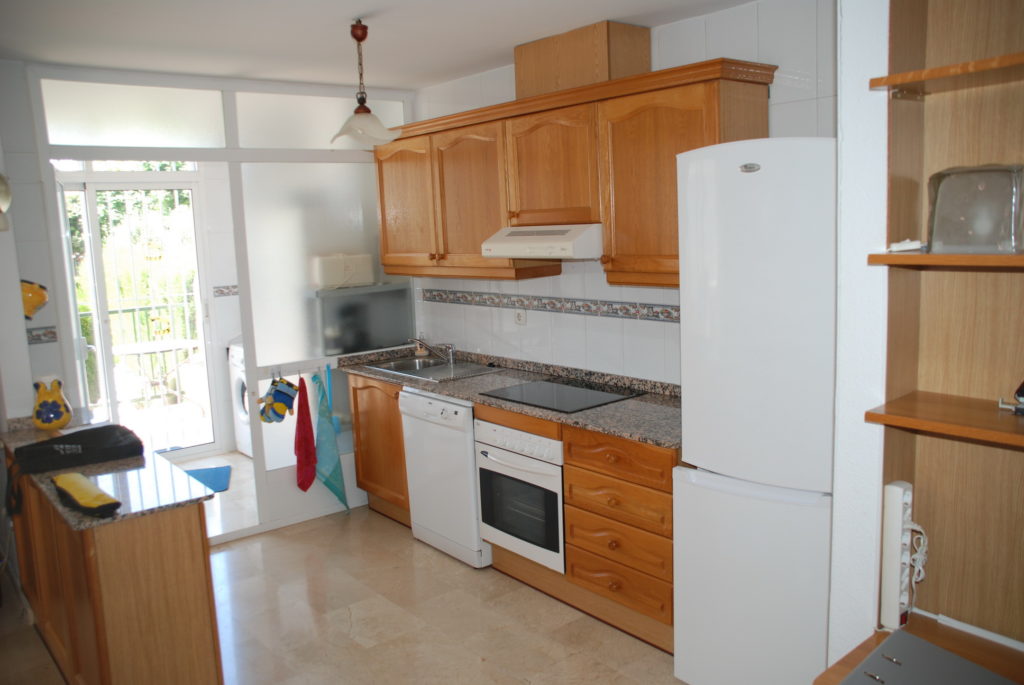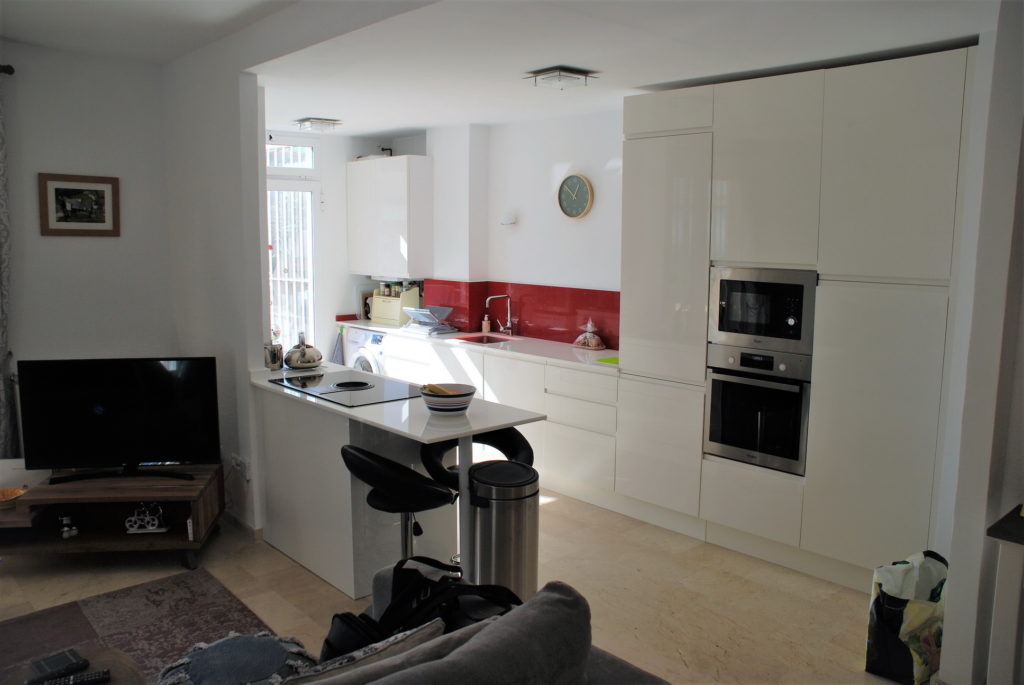 This project has been very stimulating, and it has been a pleasure to make our customers happy. This kitchen, located in the Albir, has been made with Arredo3 model Wega in glossy lacquered white. The effect of this kitchen when reflecting the sunlight illuminates the entire stay including the living room. In addition, the gallery has been incorporated into the kitchen to get more space.
We have arranged 3 columns from Arredo3 Wega of 228 cm in height. The first is a column with two doors with four interior drawers, very practical to store all kinds of stuff. The second column includes the Whirlpool oven and microwave. And in the third column an ​​integrated refrigerator also from Whirlpool has been installed.
The low furniture that follows is composed of a low cabinet with two small drawers and a big drawer; an integrated Whirlpool dishwasher; a piece of furniture for the sink under the countertop of the brand Blanco model Andano and a tap of the same brand model Mila; another cabinet with two small drawers and one big but only 32 cm deep instead of the standard 56 cm to be able to adapt it to the kitchen column; the free installation washing machine that our customers already had and a small base unit 15 cm wide to maximize the space available to us.
In the other part of the kitchen there are two base units of 45 cm wide with interior shelves of 32 cm deep; a low base unit with two drawers and a big drawer also with 32 cm deep; and a low base unit of 90 cm wide with two big drawers and 56 cm deep. On top of this last kitchen unit we have installed a hob with built-in extractor of the brand Elica model Nikola Tesla. A great solution to be able to cook in places where it is not possible to place a conventional extractor.
Finally, we have covered the heater that was in the gallery with a high wall unit of 90 cm wide.
The countertop, installed by our colleagues at Marmoles Naturalia, is a stone synthesized Carmisa Quartz model Nano White. A stone with a bright white effect that match perfectly with the rest of the furniture in this kitchen. In addition, the worktop has been extended to create a peninsula in which to be able to have breakfast quietly. Finally, a red stone has been placed on the wall to contrast with the whiteness of the rest of the elements that highlights the Arredo3 Wega furniture of the kitchen.
You can keep watching more projects here or you can contact us to ask for a design.