Kitchen Küchentime Fashion in Benissa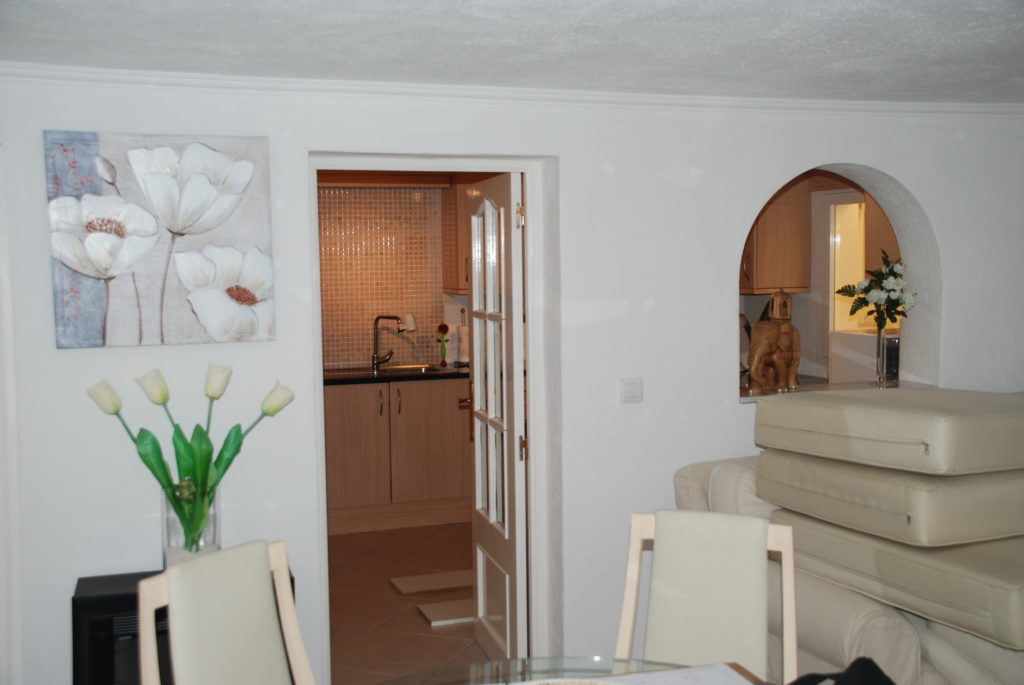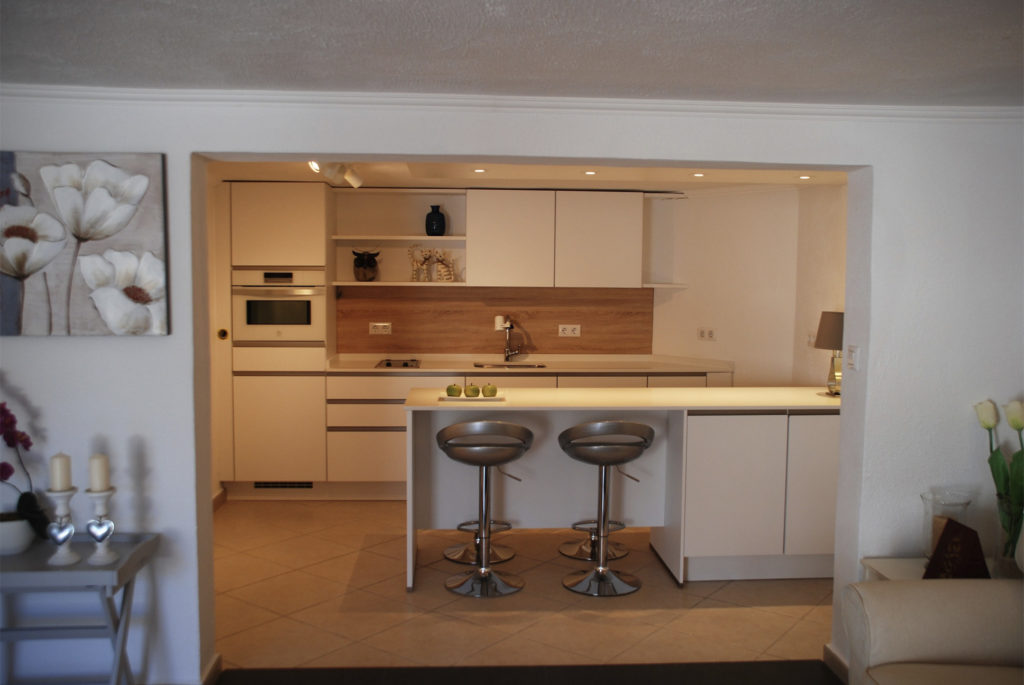 It has been a pleasure for us to carry out this kitchen project. Our clients knew exactly what they wanted to do, so it was very easy to agree. This kitchen located in the basement of the house, converted into a small apartment for their guests, had very specific needs.
The main thing was to integrate the space of the kitchen and living room to gain space and bring as light as possible for the kitchen, because it is encased between a bathroom and a study room, with very little natural light. For that reason, we have chosen the white alpine colour of Küchentime, with a very clear tone that reflects a lot of light although has a matte finish. By eliminating the wall that divided the living room and the kitchen, not only was one wall lost, but also a lot of space in which to place wall and base units. Our clients had the idea of placing an island to gain storage and work surface. Once they explained their ideas, we began to work with them to find the best choice.
As we have said before, the choice of the model has been Küchentime Fashion Alpine White, with the integrated handle in stainless steel. A model with an excellent price quality ratio. A problem could be the low height of the roof, only 2.09 cm high. We could not use a standard column, so we chose a 1.93 cm high column, which together with the 15 cm plinth was just right for this kitchen. It also has an integrated 88 cm high Bosch refrigerator and a 45 cm high Balay oven with a white glass finish that fits perfectly in the style of this modern kitchen. The base units of 72 cm high consist of a unit with drawers of 90 cm wide with a small glass ceramic hob above, a sink unit, an integrated dishwasher and a small base unit of 40 cm wide adapted to optimize the space between the two walls.
In the furniture above, not needing an extractor (as it is a kitchen for guests), we decided on a shelf of 90 cm, two wall units of 60 cm and another small open shelf adapted to the angle in the wall.
Between the high and low units, we have placed a back panel in Oak Virginia colour to break with the predominant white colour, but bringing warmth to the whole kitchen.
For the island, given the little space that we had, and as we did not want to overload the space, we used two pieces of furniture 1 meter long and 32 cm deep on each side, with which we have access to cabinets on both sides of the island. In addition, lengthening the island and with the help of a panel of 2.5 cm thick we have made a breakfast bar so that it can be used quickly and easily. Above the kitchen our client suggested fitting a panel in the same colour with integrated LED bulbs that reinforced the importance of the island, with an excellent result.
The countertop is of the 4e brand (4 elements) of Temple White colour, which harmonizes with the rest of the elements has been installed by our colleagues at Marmoles Naturalia, doing, as always, an impeccable work. The sink under countertop in stainless steel finish is Icoben brand.
You can keep watching more projects here or you can contact us to ask for a design.