Kitchen Küchentime Inline in Benissa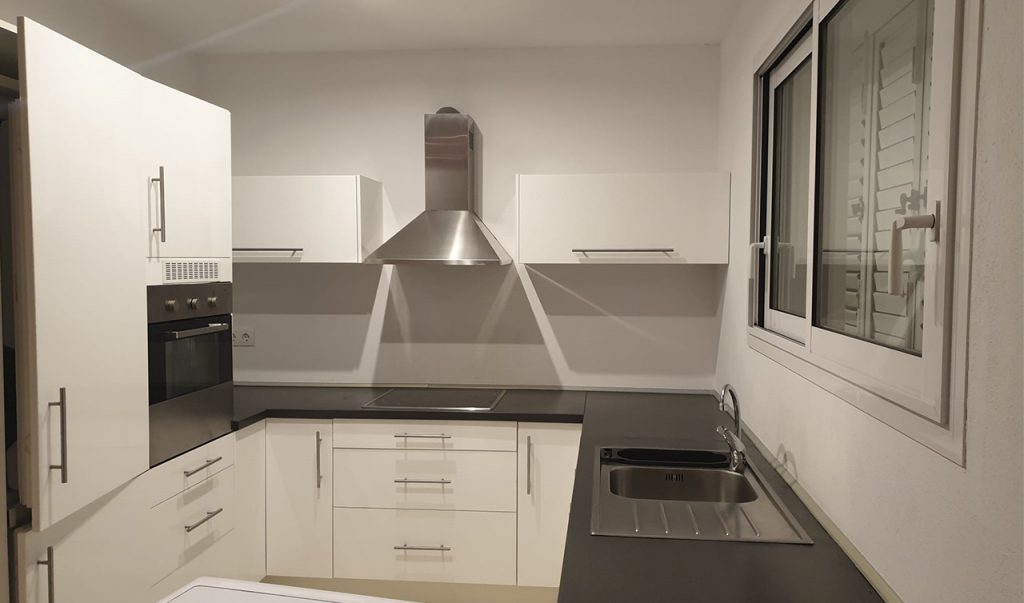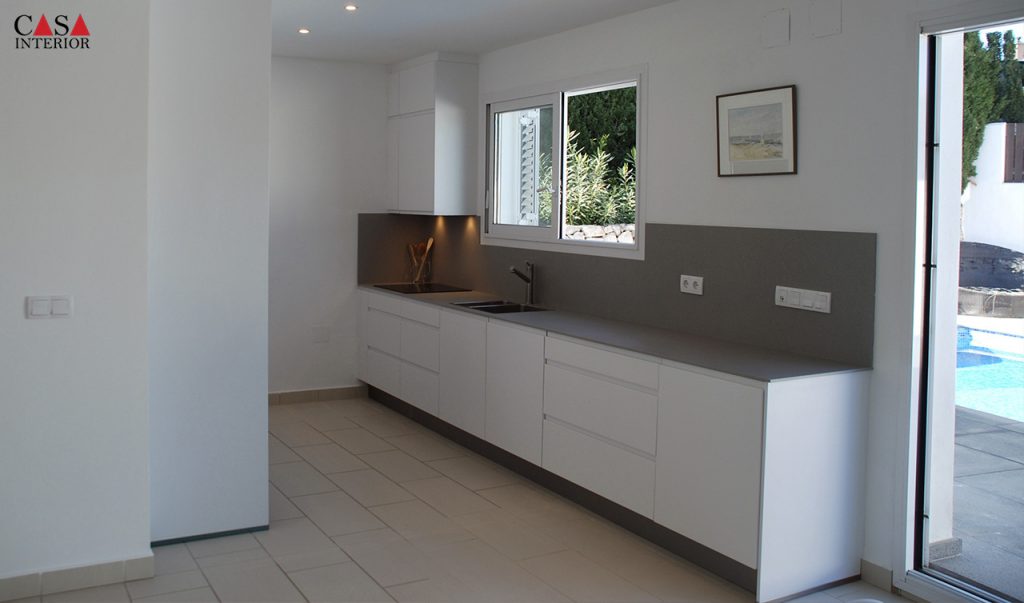 We are very proud to do this type of renovation because we have been recommended by a former client. The satisfaction of being recommended is the best motivation we can wish for. Our clients wanted a modern, functional and elegant kitchen. They loved the Inline model, a door with the integrated handle and lacquered in colour alpine white from Küchentime brand. After several designs with different finishes, they preferred to invest in this finish, which, although it is a little more delicate, has a spectacular final design.
We were talking about whether to keep the original design of the kitchen or modify it to incorporate it into the living room. In the end, with great success, they have chosen to leave it open, integrating it much better into the home environment.
Our customers wanted quality appliances and accessories to enjoy cooking for years to come and work like the first day. The colour combination could not be better, choosing the alpine white colour that enhances the furniture and a Dekton Sirocco countertop, which is a soft grey that does not go out of style. The appliances they have chosen to have been from the NEFF brand, one of the best brands on the market, from the BSH group, which guarantees the best design and maximizes the performance of the appliances. It is always a pleasure to be able to work on these types of projects where clients know what they want and are willing to invest in a high quality kitchen. As you can see in the photos, they have chosen the complete kitchen, with a fridge freezer, oven, microwave, induction hob, dishwasher, washing machine (Bosch), mini fridge and hood (the latter from the Novy brand). In addition, they wanted a double sink and a tap from the German brand Shock, with a stainless-steel finish.
The worktop is from the Dekton brand, Sirocco model, 12 mm thick, with a cladding around the kitchen mounted by the marmolist specialist TerraMarbre. As accessories, we have installed integrated Manila Plus lights, adjustable in both intensity and temperature to give a white, neutral or warm light using a sensor integrated in the wall unit. We have also installed other cool accessories like the Cuccine Oggi brand sink selection system under the sink or the 15cm wide pull-out cabinet next to the spice induction hob.
You can keep watching more projects here or you can contact us to ask for a design.