Kitchen Küchentime Inline in La Nucía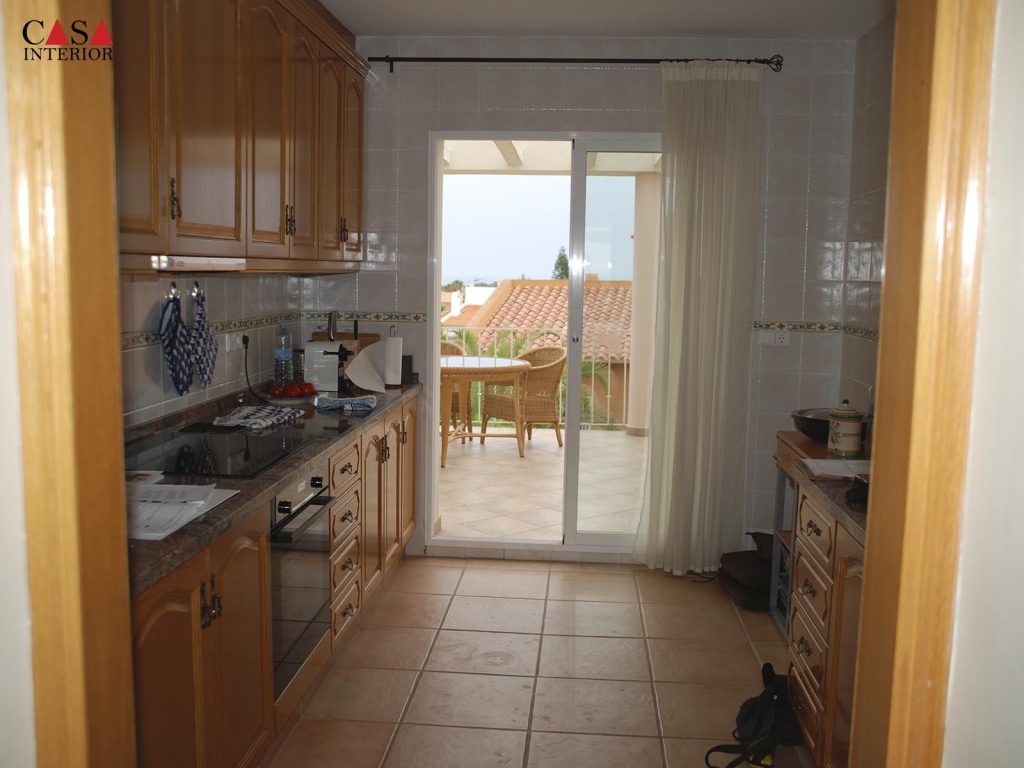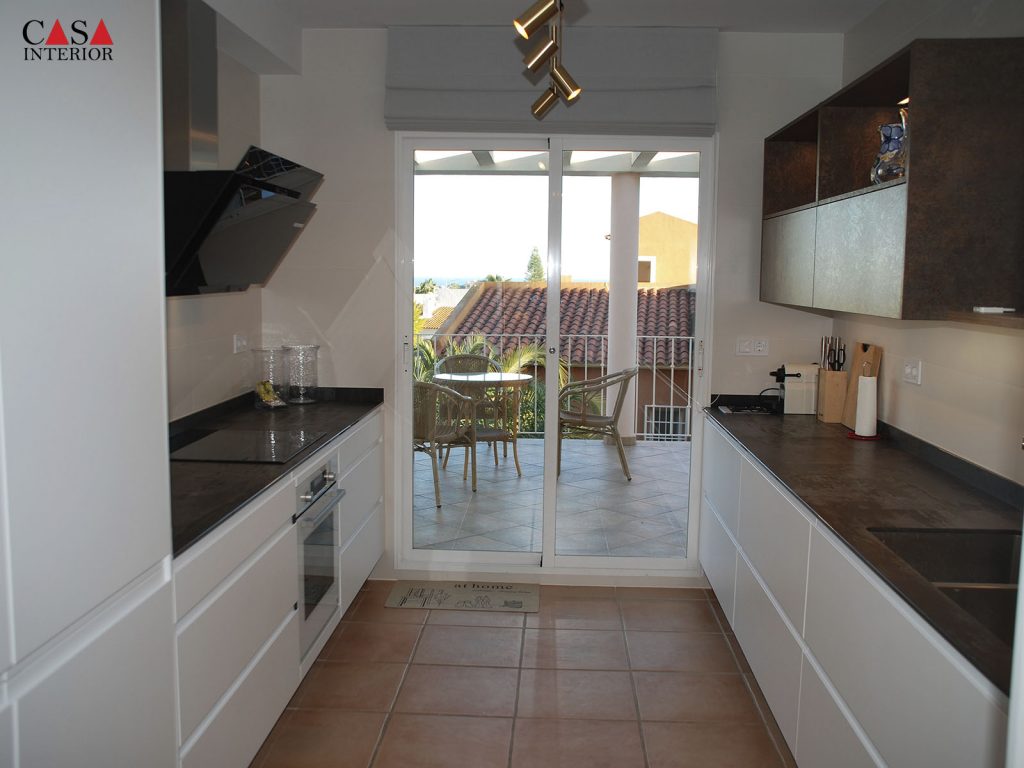 As we have said on many occasions, at Casa Interior we like challenges, and for this project in La Nucía, the challenge was to transform an old kitchen into a modern one, with clean lines and an original touch. The main thing was to remove the old tiling from the kitchen to replace it with large white pieces with a very small joint that gives the kitchen a sense of purity. Our customers quickly chose the Inline model from our German supplier Küchentime. It is a door lacquered in alpine white, a very pure white that reflects light to illuminate the entire room. In addition, it has the handle integrated in the same finish as the door to avoid any change in color.
The layout of the kitchen is clearly differentiated into two areas. On one side of the kitchen, we find the cooking area, where the only element on the wall is the inclined black glass hood by Bosch. By eliminating the tall units, we create a feeling of spaciousness that makes the kitchen more spacious than it really is. To the left of the hood, we see two columns to integrate the freezer and the refrigerator. And all base units are drawers to maximize storage capacity, and above all to maximize accessibility. On the other side of the kitchen is the utility area, with the Blanco brand double sink and the integrated Bosch dishwasher as the main elements. To maintain symmetry with the other part of the kitchen, in this part of the kitchen we have also installed large drawers, including several rubbish bins in the bottom drawer of the sink cabinet. As an original touch, we have installed two open ferro-bronze modules on the wall with integrated lights, both under the cabinet and on top. All controlled by remote control, along with the shelves with hidden brackets. This color combines perfectly with the Dekton Trilium model countertop, in 12 mm thickness.
For this work in La Nucía, our clients asked us to also reform the laundry room and create a room where they could do the laundry tasks they needed. After tiling the entire room, we decided to install an area with semi-columns to store clothes, cleaning tools, and the washer and dryer, also from Bosch. On the other side, a small sink and plenty of counter space to use. The door model that we suggest to our customers is the Touch model, in the same color, alpine white, as the kitchen, but with an integrated stainless steel handle. More durable than the nail in the kitchen as this area requires more resistance. The countertop is the Silestone Blanco Capri model in 2 cm with a polished finish to reflect the light and give the room a warmer appearance.
You can keep watching more projects of Casa Interior here or you can contact us to ask for a design.