Küchentime in our showroom

Casa Interior News   •   October, 2017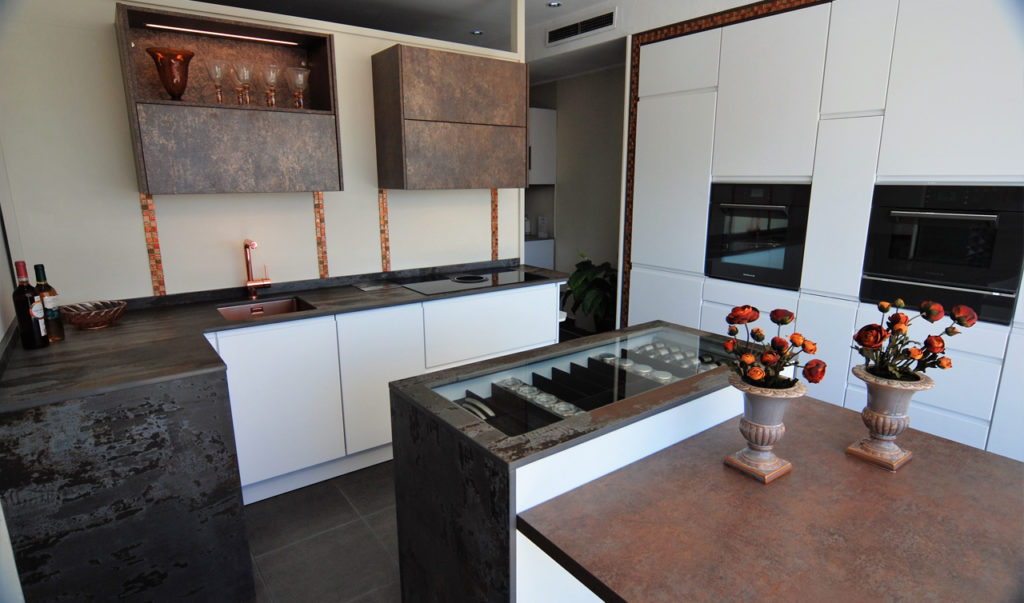 We have the pleasure of showing our new expo kitchen in our shop in Altea. We decided to choose a modern style that we are very proud of. The kitchen is divided in three parts;
– First parts contains the copper tap and sink from Daqua, hub and extractor In one unit from Elica and 45cm dishwasher from Bosch. Also you can appreciate the close ups here and the rusty antique metal style of the worktop. The beautiful detail of the little mosaic going from the Wall Units to the worktop was a suggestion made by our designers.
– Second part is the island, where we made an integrated transparent glass to see what is inside the drawer. The Island is consists of a unit with three large (120cm) drawers with a fantastic breakfast bar connected to the floor by a glass support.
– Third part is a big wall with all the cupboards and the appliances necessary for every practical kitchen. The fridge is from Liebherr integrated with the same door as the rest of the cupboards, oven and microwave are from DeDietrich, very modern and full of possibilities, also included is a plate warmer in order to maintain the symmetry. All the cupboards are framed, with the same bold mosaic on a contrasting background in order to highlight the Alpine white furniture.
Hope you liked this design made by us here at, Casa Interior. You can visit us for talk or simply call for an appointment, to have your free design made, of your dream kitchen.