Kitchen Arredo3 Cloe White & Gray in La Nucía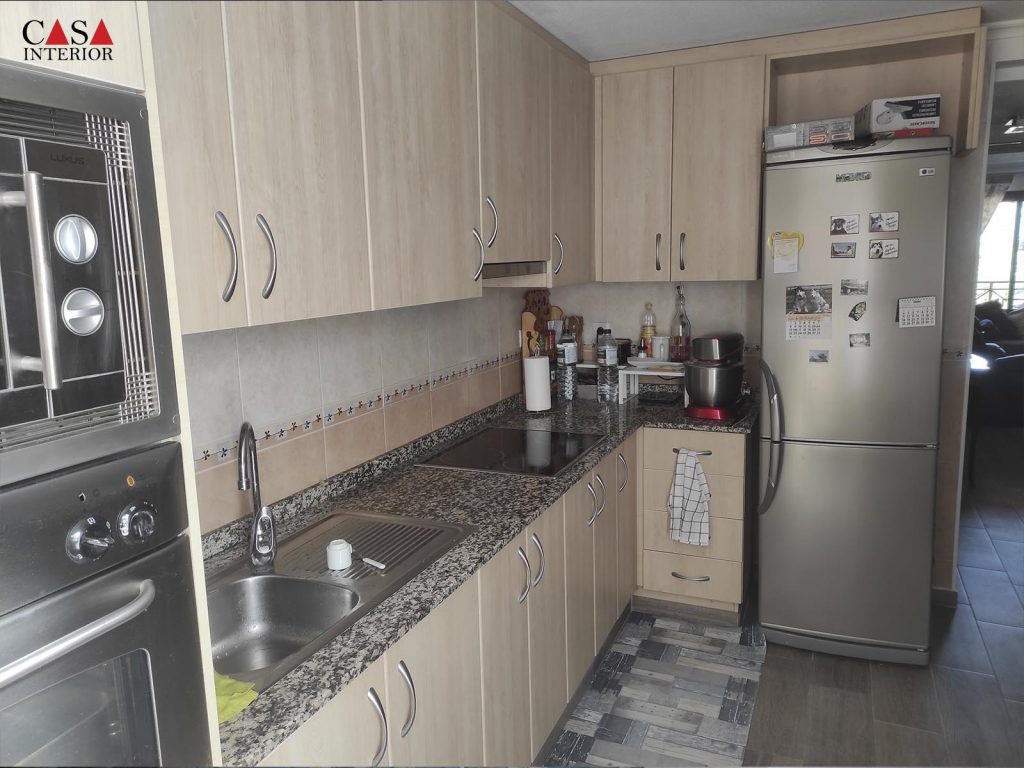 The kitchen that we present to you today from La Nucia is the model Cloe by Arredo3, with a combination of colors between the high and low units. At the bottom, the color of both the doors and the carcase is white, while at the top they are gray. It is a very elegant combination together with the black handle.
The oven and microwave column are also in gray, with side panels in a glossy gray finish. Above the refrigerator there is also a small cabinet for storage. It is a kitchen with a different layout than usual because the peninsula, made up of two cabinets, face in opposite directions. While the cabinet with drawers and pull-outs is accessed from the kitchen, the other cabinet, with two pull-outs, is accessed from the dining room. The backs of the furniture are covered with panels in the same finish as the doors.
The depth of the furniture in the area of the sink and hob is normal, but the other areas are narrower to increase the area of passage and allow greater comfort within the kitchen.
This kitchen renovation has been very interesting, and we are very satisfied with the result. In contrast to the white and gray doors we have the countertop, the baseboards, the handles, and the panels up to the ceiling in black. The quartz countertop in black finish is from the Guidoni TopZstone brand, Naron model. The sink and tap in white granite finish are from the Icoben brand. This cold opening faucet is ideal for confined spaces.
The appliances that we have provided are the induction hob and the built-in dishwasher, from the Balay brand, while the other appliances are owned.
You can keep watching more projects here or you can contact us to ask for a design.