Arredo3 presents its new collection of Kronos kitchens

Casa Interior News   •   July, 2019
A sophisticated design project combines cutting-edge technical features with fine materials to create timeless contexts.
Frame door:
The doors in the Kronos collection feature a titanium painted aluminium frame with a laminate, HPL, Fenix-NTM®, wood, glass or Laminam panel. Light and practical, the doors open easily thanks to an integrated grip handle at the top or bottom.
Carcase:
The doors comprise an extruded aluminium frame with an integrated handle.
Materials:
From classic laminate to innovative Laminam, panels are available in 6 different materials.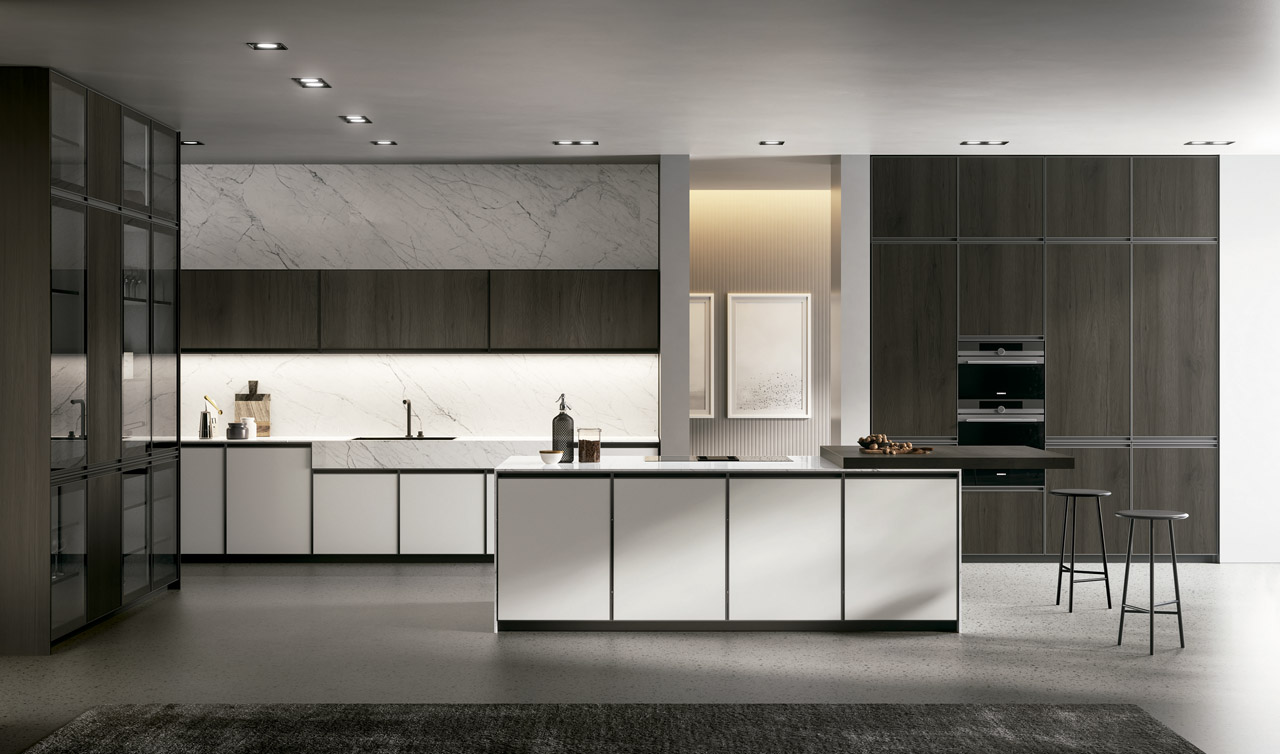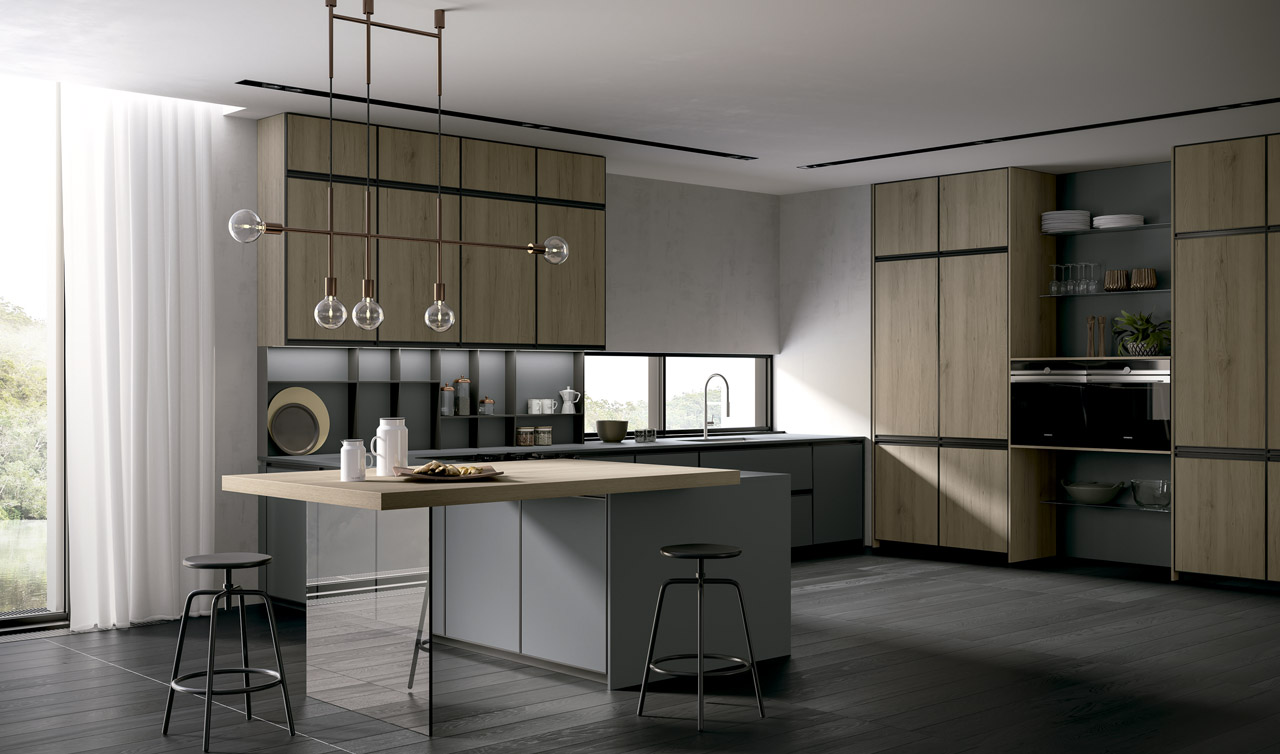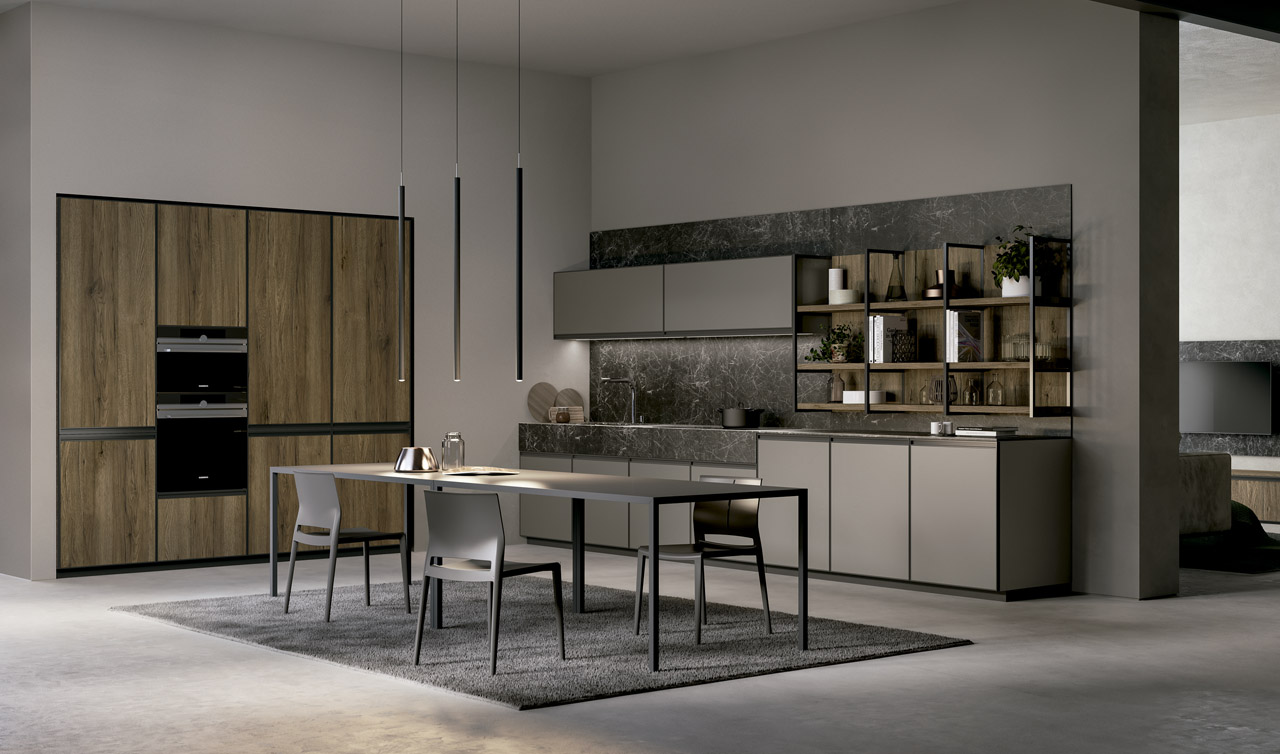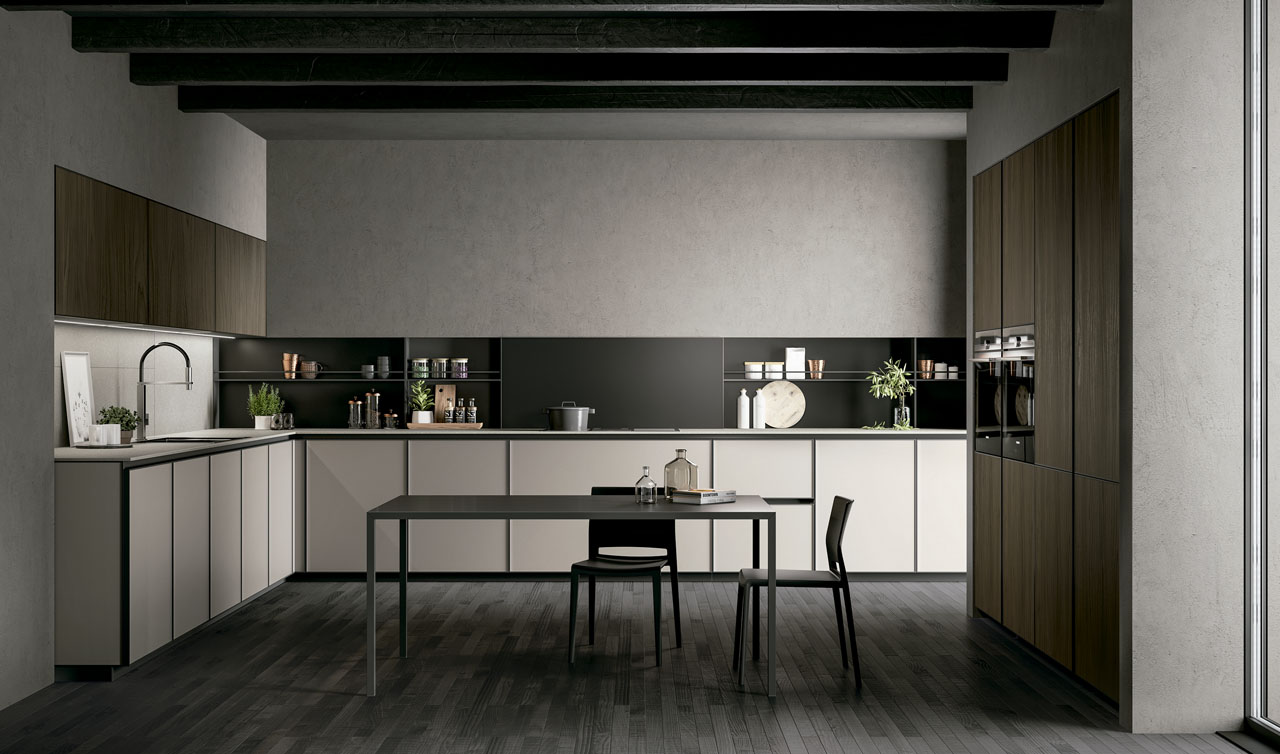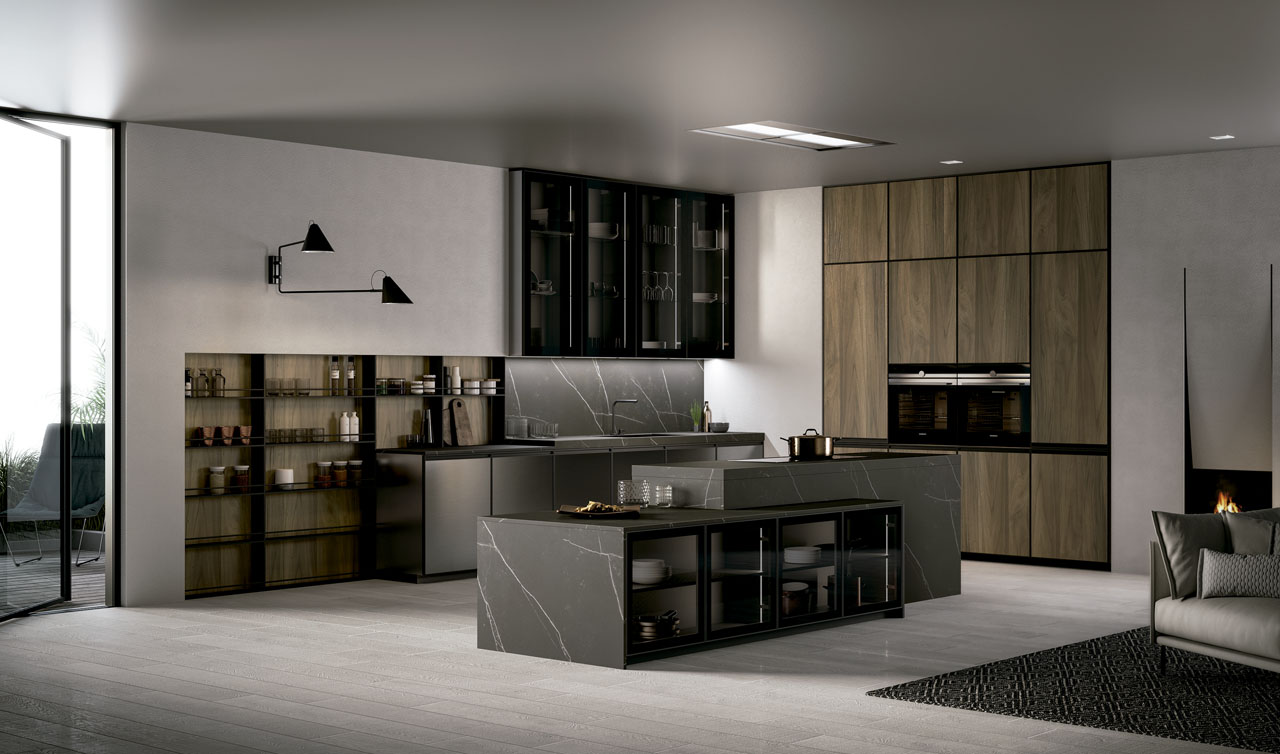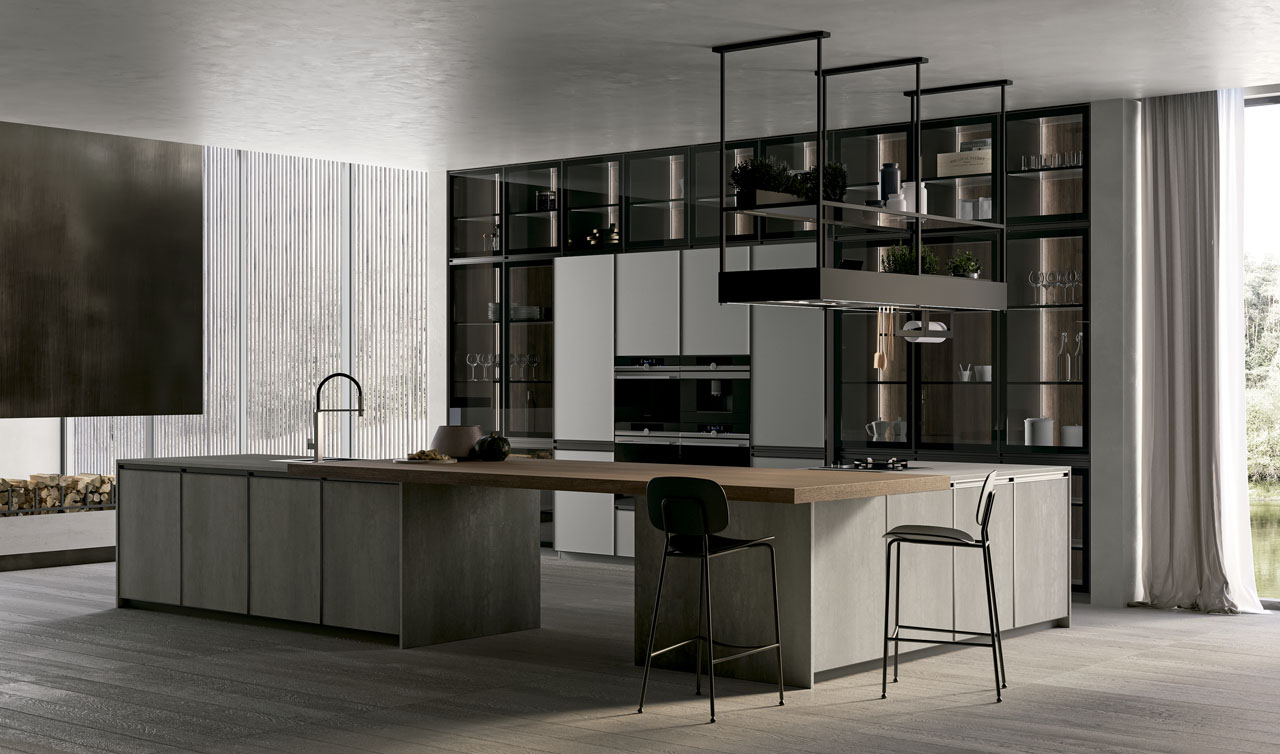 Laminated
Resistant, waterproof and easy to care for, laminate is a coating that consists of sheets impregnated with phenolic resins usually applied to wood panels. There are various types of laminate: HPL and CPL are the most common and differ from each other in terms of thickness and the greater or smaller pressure used in applying the sheet to a support.
Laminated Maxximatt PET
PET film is a thermoplastic polymer, which is laminated to an MDF core with a proprietary glue under high heat and pressure, creating an ideal surface for building cabinetry.
PET materials are extremely heat and moisture resistant, especially when combined with zero-joint, no adhesive edge banding applied with a hot air edge bander. Applying the material to an MDF substrate with proprietary glue provides a stable, consistent and smooth finish. This virtually eliminates warping and rippling. There is no painting involved when using PET, saving time and money.
Laminated HPL
High Pressure Laminates (HPL) are decorative laminates applied to a composite core with high levels of pressure to seal and secure the bond between the core and the laminate material. Laminate doors and drawer fronts have a band around the edge to conceal and protect the composite core.
Fenix
The external surface of Fenix NTM involves the use of nanotechnology and it is characterized by next generation acrylic resins, hardened and fixed with Electron Beam Curing process opening up new avenues in the field of interior design. With low reflectivity, its surface is extremely opaque, anti-fingerprint and features a very pleasant soft touch. Thanks to the use of nanotechnologies, Fenix NTM thermally heals any superficial micro-scratches, as its name indicates. In addition, Fenix NTM is highly resistant to scratches, abrasion, rubbing and dry heat. It also withstands impacts, acid-based solvents and household reagents. It significantly reduces the bacterial load making its surface hygienic and easy to clean. It is also liquid repellent and mould-proof.
Laminam
Laminam is manufactured using advanced techniques, the slabs combine reduced thickness and large size with very high resistance to mechanical stresses, chemicals, wear, scratches, deep abrasion and bending, are easy to sanitise, resistant to frost, fire, mould and UV rays. All the features and chromatic properties of the slabs are unalterable, and remain unchanged over time and in the presence of all kinds of weather conditions.